In Old Icelandic, "hagrað" meant "wise counsel".
These days, Hagrað is a team of consultants advising institutions on transformation of their practices towards Earth regeneration.
The Hagrað Vision: Making Peace with the Earth
Hagrað is actively engaged in the ideas space, developing concepts and methods to operationalize the framing notion of making peace with the Earth.
Hagrað provides clients with a comprehensive consulting approach, from benchmarking the starting point against evidence-informed good practices to designing contextualized regenerative solutions.
Hagrað's consulting services are supplemented by on-the-ground training to integrate transformation into institutional reality.
John Crowley is Hagrað Chairman and CEO. John is the founder of PHGD, which holds a 53.7% stake in Hagrað and brings together a portfolio of interests in sustainable energy and environmental regeneration.
With 18 years high-level international experience in the UN system, and previous careers in oil & gas and in academic research, John combines the vision to generate new ideas with the business skills to make them work in practice.
From 2003 to 2021, John worked for UNESCO, where he led programmes on ethics of science and technology, global environmental change and management of social transformations.
From 1995 to 2002, John was a research fellow at the French National Political Science Foundation, specializing in political theory and comparative politics.
From 1998 to 1995, John worked for Total, first in corporate planning and later in North Sea exploration and production.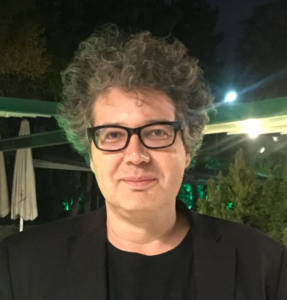 Patrick Degeorges, Hagrað Director of Research and Innovation, is a special advisor on sustainability to the Commissariat-General for Strategy and Foresight in Paris and an associate researcher at the Michel Serres Institute in Lyon, Patrick spent 10 years in charge of biodiversity and climate policy innovation in the French Environment Ministry. He currently designs new ecological accounting frameworks and mapping tools to connect sustainable forms of governance with innovative business models for natural capital management activities.
Patrick has a 46.3% equity stake in Hagrað.
Hagrað's international network of knowledge partners also includes the Club of Rome; the Institut Michel Serres, Lyon; the UNESCO BRIDGES programme – Environmental  humanities for resilience; the University of Basel; BRAC University; the Swiss Academy of Natural Sciences – Swiss Academic Society for Environmental Research and Ecology; the World Academy of Arts and Sciences – Global leadership programme.
Hagrað was legally incorporated in December 2020. But the concept and the ambition were born much earlier – in 2012, when Patrick Degeorges and John Crowley first met and started exchanging ideas about environmental philosophy and its implications.